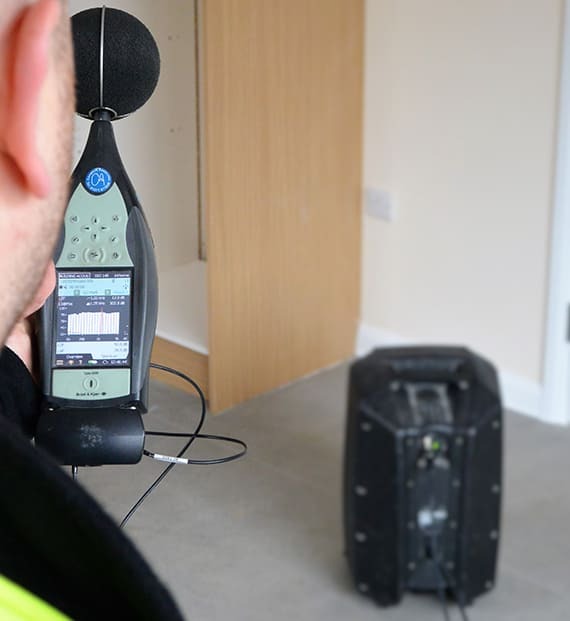 Sound insulation testing or pre-completion testing must be carried out on new build properties as well as converted properties. A property will either require an Airborne test or an Airborne and Impact test. Airborne tests are carried out on separating walls between habitable rooms of flats and houses. Airborne and Impact tests are carried out on the separating floors between habitable rooms of flats. Sound insulation testing must comply with Building Regulations Approved Document E.
All of our sound insulation tests are carried out in accordance with ISO 140-4 and ISO 140-7. All of our test engineers are members of the Institute of Acoustics. New build properties need to meet the requirements of DnTw+Ctr ≥45dB and LnTw ≤62dB. Conversion properties need to meet the requirements of DnTw+Ctr ≥43dB and LnTw ≤64dB.
JosTec engineers have over 10 years of experience in sound insulation testing. We are experts in consultancy as well as testing, having completed thousands of jobs throughout the UK. We take pride in offering all of our clients a personal service and some of the highest levels of expertise to be found. (See our customer testimonials here)
We regularly provide consultations for project managers and developers from the very start of developments, ensuring peace of mind when it comes time to have a sound test.
If you're on this page, you'll likely also need some of our other services. If you're not sure which services you need, you can check here.
What Is A Sound Insulation Test?
There are two types of sound tests:
Airborne Tests – These tests are carried out on party walls and floors/ceilings between dwellings. An airborne test measures levels of sound transmitted through the air. We use a loudspeaker that produces white noise on one side of the partition, and measure with a decibel meter on the other side how much sound is lost through the partition. Examples of airborne noise that you would expect to find in a dwelling are televisions, radios and people talking.
Impact Tests – These are only carried out on separating floor/ceiling divides between dwellings. An impact test measures the levels of noise transmitted directly through a separating construction as a result of impact. We use a tapping machine, which drops metal hammers onto the floor to create impact noise. We then measure the amount of sound that passes through the partition with a decibel meter on the other side of the divide.
All testing can only be completed on 'habitable' rooms. Habitable rooms can be bedrooms, lounges, living rooms, and open plan kitchen/ living spaces. Test findings are fed into a report that will be sent to the client. This report should always be acceptable to Building Control and will help you to get your development signed off. For further information, read our detailed guide: What is Sound Insulation Testing? or see our frequently asked questions.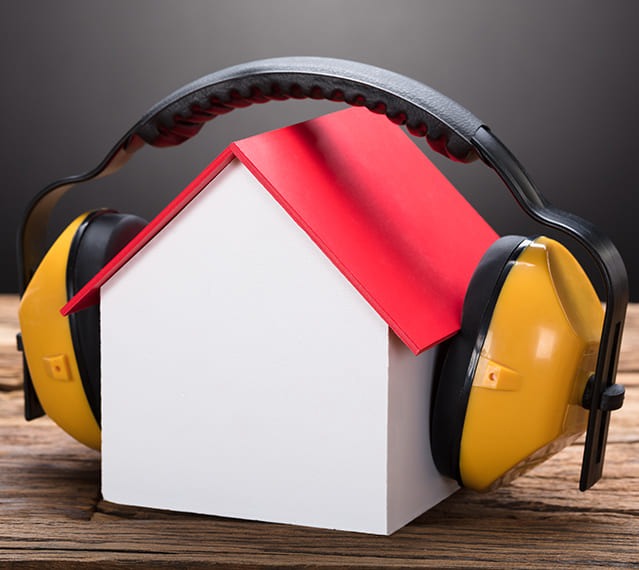 When Is Sound Insulation Testing Required?
Ideally, a test should be carried out as early as possible as problems are more difficult to fix the further along you are. Where possible, it's recommended that testing is carried out before kitchens or bathrooms are installed. The minimum that we require to be able to carry out a test is:
All doors, windows and seals should be fully fitted and closable
All electrical fittings should be fitted and working
240V mains power must be available on-site in all rooms
Gaps in walls and floors should be fully sealed
All walls and ceilings should be plastered
There should be no holes remaining in floors or ceilings
Testers will require access to all rooms on all levels
Do I Need A Sound Insulation Test?
Under Building Regulations Approved Document E you will require sound insulation testing if you are:

Building a block or blocks of flats
Building a hotel, hostel or house of multiple occupancy
Building terraced or semi-detached houses
Converting a building whereby you create more dwellings than previously existed (e.g. converting a house or offices into residential dwellings)

Sound insulation tests are not required on:

Detached dwellings
Refurbishment projects

If you're not sure, give us a call and we can talk you through the regulations and your options.
How Do I Pass A Sound Insulation Test?
Speak to us!
We have consulted on hundreds of building projects in the past, and can guarantee a pass as long as the work is carried out exactly as we specify in an on-site consultation.
If a sound insulation test fails, it can often cost hundreds or even thousands of pounds to rectify, so it really is worth speaking to us at the early stage of a build, to ensure peace of mind.
Should you require soundproofing installers, we recommend checking out Soundproofing R Us
Contact us today to book a

sound insulation test
We offer the highest levels of service and expertise and are always happy to work with our customers to give you the best possible chance of achieving a pass certificate.